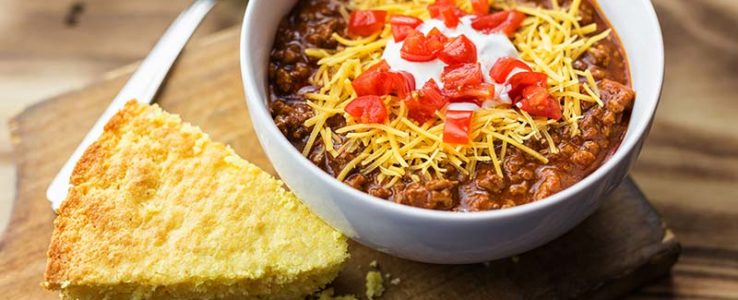 Chili Cook Off's occur each year in many parts of the country. Contestants spend countless hours in preparation to compete with secret recipes trying to win over the judges. When you are RVing, a perfect alternative to opening up a can of mass produced ordinary chili is to easily prepare your own wonderful Texas style champion camping chili.
Chili or Chile Con Carne has its roots in Texas from J.C. Clopper, who in 1828 described his visit to San Antonio observing poor families turning meat into a hash with peppers and stewing it all together. Later in the 1880's there were chili stands popping up in San Antonio, and were sold by women referred to as Chili Queens. For 10 cents you could get a bowl of chili, bread, and a glass of water! Chili Con Carne became famous when it was featured at the World's Fair in Chicago in 1893. Finally in 1977, the chili manufactures in Texas were able to lobby the state to have chili named the official state food of Texas.
As the fall season approaches with cooler weather, chili is a great food idea to serve for lunch or dinner! Whether you are having a tailgating party at the stadium, full timing in your RV and heading out into the cold, or even wanting something simple to cook after a long day of driving, chili is a perfect choice to satisfy your appetite!
Not everyone has the time or the notion to spend hours following a recipe to make champion Texas style chili. A wonderful way to make champion camping chili in a snap is to use Pure Texan Chili .
Pure Texan Chili qualifies as champion camping chili because it is super easy to make! Only 2 pounds of ground beef, tomato sauce and a package of Pure Texan Chili mix. Pure Texan Chili was founded by Alan and Susan Dean who are avid RV'ers, and Susan winner of the international competition in 2008. Their perfect sealed packaging of the Pure Texan Chili is just great for RVing and comes in handy 3.5 oz packaging (serves 4). It can be bought direct and shipped out to you! You may visit their website by clicking here.